We now offer e-notifications to news, notices and events posted on our site. We invite you to subscribe here:
Subscribe to Notices & Events | Subscribe to Calendar Updates
---
PARKING BAN
A parking ban resolution was passed at the 11/11/19 Trustee meeting:
Parking on Township roads between the hours of 12 midnight and 7 am and/or when show has fallen that exceeds 2″ is prohibited.
The sheriff's office may ticket or tow any vehicle found in violation.  This is effective as of 12/11/19, but please be cautious and courteous of others by refraining from parking on our roads when weather or darkness make it a hazard.
***********************************************************************************
Public Notice: The township will be selling by internet auction our 2008 Ford F35HD Super -Cab FOR SCRAP ONLY starting on November 30, 2019.   Starting Bid is $500 on Govdeals.com. This notice will be published in the News Herald on Saturday, November 16, 2019.
***********************************************************************************
Congressman Dave Joyce will be hosting a Veterans Resource Fair in Mayfield on Friday, November 22
View the flyer for more information…
---
---
Santa Claus is Coming to Leroy – Let's Join Him for Breakfast!
Only 50 seats are available for a charity pancake breakfast, craft session, story time, and visit with Santa.  Please call 440-254-4235 to RSVP and guarantee a seat.
View the flyer for more information…
---
Planning for LeRoy 2020 Bicentennial – PLEASE LOOK AT THE NEW LEROY BICENTENNIAL FESTIVAL tab!
Anyone interested in helping to plan LeRoy's Bicentennial event for 2020, please contact Brandy Hanusosky.  This event cannot take place without many hands to help! All are welcome to share ideas.  Please consider giving some of your time and ideas for this great event for OUR community! The next meeting is scheduled for Wednesday, November 13th at 6:30 p.m. at the Leroy Community Center, 13028 Leroy Center Road. ***PLEASE NOTE*** All future meetings will be held on the second Wednesday of each month at the Leroy Community Center.
View the Leroy Bicentennial Festival page for more information…
---

Check here for the latest Lake County health advisories
---
Little Free Library is located at the Leroy Community Center, 13028 Leroy Center Road.  It's a little red box that will contain books.  You are invited (and encouraged!) to visit our library.  Take a book.  Share a book.  Please be respectful – make sure to keep the door closed to keep the elements out.
---
PLEASE NOTE: Sales of Cemetery Lots
To make an appointment (please, no walk-ins) to purchase cemetery lots, please contact Sharon Rodgers at (440) 479-0759 or Debbie Lefelhoc at (440) 476-7939.
---
REMINDER

: A Zoning permit is required for all residences who engage in a Home Occupation (Business).  Call the Zoning Inspector, Myron Telencio (440) 220-0430 for any questions or for an application.
---
RENEWING YOUR DRIVERS LICENSE OR PLATES
Please remember when you renew your driver's license or license plates, use Leroy Township as your mailing address, not Painesville. If you do this, Leroy will get the motor vehicle and license tax. Otherwise, it will go to Painesville. Please … help your community!!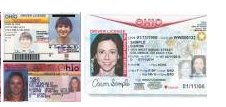 Also, please be aware: Effective 7/2/18, the Ohio Bureau of Motor Vehicles will introduce its new Driver License and Identification Card (DL-ID).  If you'd like to understand what's new, what will change, what won't change, and what documents you may need, visit bmv.ohio.gov.  New federal travel restrictions requiring secure identification go into effect October 2020.  Ohio is offering two options to its customers:  Compliant or Standard cards.