We now offer e-notifications to news, notices and events posted on our site. We invite you to subscribe here:
Subscribe to Notices & Events | Subscribe to Calendar Updates
---
Tick and Mosquito Warning
Due to the extreme amount of rain this spring, there is an abundance of mosquitos and ticks.  Please consider applying bug spray on yourself and your children before heading out of doors, especially when visiting our parks and ballfields.  Children should be checked for ticks after playing outside as well.
---
Planning for LeRoy 2020 Bicentennial
Anyone interested in helping to plan LeRoy's Bicentennial event for 2020, please contact Brandy Hanusosky.  This event cannot take place without many hands to help! All are welcome to share ideas.  Please consider giving some of your time and ideas for this great event for OUR community! The next meeting is scheduled for Wednesday, June 19th at 6:30 p.m.  ***PLEASE NOTE THE CHANGE IN LOCATION:  This meeting will be held at the South Leroy Meeting House on Rt. 86 and Brakeman Road.***
---
Hold the Date: Saturday, August 3 – LeRoy Twp Movie Night!
Enjoy a BBQ dinner, family bingo and outdoor movie. More details to follow!
---

August 15, 2019: Classic Car Show –  LeRoy Heritage Association's "Planes, Trains & Automobiles"
Tickets can be purchased at Eventbrite: https://bit.ly/2wTasQB
Enjoy museum tours, artisans and barbeque dinner at Pheasant Run Airport and Museum 4-8 p.m., Trask Road, Leroy Township. Flyer…
---
Meet Us in the Peace Garden
Presented by Master Gardener Volunteers of Lake County
Monthly Gardening Programs March – November 2019 @ 10 a.m.
Join us for discussion and interactive demonstrations on a variety of gardening topics throughout the year.
The Peace Garden is located at the 4-H Building on the Lake County Fairgrounds.  It contains many common shrubs, grasses, herbs, annuals, perennials and small trees.
Each session will consist of a presentation occasionally followed by interactive demonstrations.  When appropriate to the topic, small groups of participants will work with Lake County Master Gardener Volunteers in the garden or on a project.
Questions? Email us at:  MGVLakeCounty@gmail.com or Call 440-350-2254
Meet Us in the Garden Topics
Saturday, July 6, 2019 at 10:00 a.m.
Sustainability – What is sustainability? And how can you practice it in your garden?  Learn how with native plants, composting and rain barrels.  Community recycling will also be discussed.
Remaining topics for 2019:
Saturday, August 3 – Monarchs
Saturday, September 7 – Seed Collecting 101
Saturday, October 5 – Pruning, Cutting Down and Fall Clean Up
Saturday, November 2 – Terrariums
---
Little Free Library is located at the Leroy Community Center, 13028 Leroy Center Road.  It's a little red box that will contain books.  You are invited (and encouraged!) to visit our library.  Take a book.  Share a book.  Please be respectful – make sure to keep the door closed to keep the elements out.
---
REMINDER

: A Zoning permit is required for all residences who engage in a Home Occupation (Business).  Call the Zoning Inspector, Myron Telencio (440) 220-0430 for any questions or for an application.
---
RENEWING YOUR DRIVERS LICENSE OR PLATES
Please remember when you renew your driver's license or license plates, use Leroy Township as your mailing address, not Painesville. If you do this, Leroy will get the motor vehicle and license tax. Otherwise, it will go to Painesville. Please … help your community!!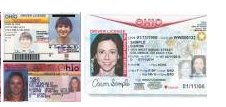 Also, please be aware: Effective 7/2/18, the Ohio Bureau of Motor Vehicles will introduce its new Driver License and Identification Card (DL-ID).  If you'd like to understand what's new, what will change, what won't change, and what documents you may need, visit bmv.ohio.gov.  New federal travel restrictions requiring secure identification go into effect October 2020.  Ohio is offering two options to its customers:  Compliant or Standard cards.