We now offer e-notifications to news, notices and events posted on our site. We invite you to subscribe here:
Subscribe to Notices & Events | Subscribe to Calendar Updates
Overdose Prevention Clinics in September
The Lake County General Health District will be offering several Overdose Prevention Education (Project DAWN) clinics in the month of September.
These clinics are available to any Ohio resident who is interested in obtaining the knowledge and skills to recognize an overdose and use Naloxone (NARCAN®). If eligible, you will receive a Naloxone (NARCAN®) kit at no cost. Info and locations…
---
Planning for LeRoy 2020 Bicentennial
Anyone interested in helping to plan LeRoy's Bicentennial event for 2020, please contact Brandy Hanusosky.  This event cannot take place without many hands to help! All are welcome to share ideas.  Please consider giving some of your time and ideas for this great event for OUR community! The next meeting is scheduled for Wednesday, September 11th at 6:30 p.m. at the Leroy Community Center, 13028 Leroy Center Road. ***PLEASE NOTE*** All future meetings will be held on the second Wednesday of each month at the Leroy Community Center.
---
Sat., Sept. 21, 2019: The 10th Annual Leroy Community FALL Garage Sale
The garage sale takes place at local homes, the Leroy Community Center and the ball fields behind the Leroy Fire Station Sept. 21, 2019 from 9-4 p.m. Map…
To sign up your home or to get space at the ball fields, pavilion or community center, please fill out this form and mail it in with your payment by September 13, 2019 to be included on the Fall 2019 map.
---
Household Hazardous Waste Collection – September 21, 2019
9:00 am to 3:00 pm – Rain or Shine
Lake County Residents Only – No Businesses
Lake County Fairgrounds – 1301 Mentor Ave., Painesville
Free to Residents
ACCEPTED ITEMS INCLUDE:
Automotive fluids: motor oil, gasoline, coolants, antifreeze, grease.
Oil based paints, varnish, shellacs, stains, aerosols, polyurethanes, primers & grout.
Bulbs & Batteries: all sizes (lead acid & household) & fluorescents.
Household cleaners & solvents: thinners, kerosene, turpentine, lighter fluid & paint strippers.
Liquids/Solids: pool, lawn & garden chemicals, pesticides, weed killers, spray insecticides, photography, "hobby" chemicals, mercury, empty propane tanks, roofing tars, drive sealers, and adhesives.
PROHIBITED ITEMS:
Ammunition, explosives, medical waste including prescription medicines, smoke alarms or any other item not on the accepted list.
GUIDELINES:
Leave product in original container, or label contents if known.  Bring materials ONLY during collection event, as trained technicians will unload your vehicle.
Sponsored by the Lake County Solid Waste District, the Lake County Board of Commissioners, and the Lake County Department of Utilities.  For more information about the HHW Collection:  LakeCountyOhio.gov/Utilities – See Special Collections Information.  Call OSU Extension at 440-350-2582 or the Solid Wast District at 440-350-2644.
---
Meet Us in the Peace Garden
Presented by Master Gardener Volunteers of Lake County
Monthly Gardening Programs March – November 2019 @ 10 a.m.
Join us for discussion and interactive demonstrations on a variety of gardening topics throughout the year.
The Peace Garden is located at the 4-H Building on the Lake County Fairgrounds.  It contains many common shrubs, grasses, herbs, annuals, perennials and small trees.
Each session will consist of a presentation occasionally followed by interactive demonstrations.  When appropriate to the topic, small groups of participants will work with Lake County Master Gardener Volunteers in the garden or on a project.
Questions? Email us at:  MGVLakeCounty@gmail.com or Call 440-350-2254
Meet Us in the Garden Topics
Remaining topics for 2019:
Saturday, October 5 – Pruning, Cutting Down and Fall Clean Up
Saturday, November 2 – Terrariums
Little Free Library is located at the Leroy Community Center, 13028 Leroy Center Road.  It's a little red box that will contain books.  You are invited (and encouraged!) to visit our library.  Take a book.  Share a book.  Please be respectful – make sure to keep the door closed to keep the elements out.
---
PLEASE NOTE:
To make an appointment (please, no walk-ins) to purchase cemetery lots, please contact Sharon Rodgers at (440) 479-0759 or Debbie Lefelhoc at (440) 476-7939.
---
REMINDER

: A Zoning permit is required for all residences who engage in a Home Occupation (Business).  Call the Zoning Inspector, Myron Telencio (440) 220-0430 for any questions or for an application.
---
RENEWING YOUR DRIVERS LICENSE OR PLATES
Please remember when you renew your driver's license or license plates, use Leroy Township as your mailing address, not Painesville. If you do this, Leroy will get the motor vehicle and license tax. Otherwise, it will go to Painesville. Please … help your community!!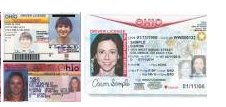 Also, please be aware: Effective 7/2/18, the Ohio Bureau of Motor Vehicles will introduce its new Driver License and Identification Card (DL-ID).  If you'd like to understand what's new, what will change, what won't change, and what documents you may need, visit bmv.ohio.gov.  New federal travel restrictions requiring secure identification go into effect October 2020.  Ohio is offering two options to its customers:  Compliant or Standard cards.