HEAVY DUTY PLOW TRUCK for SALE
Date: Monday, December 16th, 2013
Time: 5 P.M.
Location: LEROY TOWNSHIP
HEAVY DUTY PLOW TRUCK for SALE
LeRoy Township is selling a 2002 Ford Super Duty Plow Truck.
Equipped and ready to plow for $28,000.00.
Call 440-254-4234 for an appointment to see the truck and ask for Jason.
For all the details go on-line at -- www.govdeals.com
(Back to the top)
MAIL-BOX REPLACEMENT POLICY
Date: Wednesday, April 2nd, 2014
Location: LeRoy Township
MAIL-BOX REPLACEMENT POLICY
LeRoy Township will follow Lake County Engineer's mailbox replacement policy and reads as follows:
No "
Rubbermaid

" style mail boxes will be replaced. A value of up to $35.00 will be the maximum replacement cost. LeRoy Township will only replace a mailbox that has been damaged by a DIRECT Hit with the vehicle or snow plow. A mailbox which has been damaged by thrown or pushed snow does not warrant replacement.
The Township will replace or repair a mailbox damaged by DIRECT contact with the snow plow vehicle or plow blade with a standard 4 x 4 wooden treated post and mailbox as approved by the US Postal Service.
(Back to the top)
TOPS MEETINGS
Date: Friday, May 2nd, 2014
Location: COMMUNITY CENTER
TOPS OH #1959 (
TAKE OFF POUNDS SENSIBLY

) - meets every Monday at the Community Center.
Weigh-in is at 6p.m, and the meeting begins at 6:15pm.
Call Rhia Brothag, Leader at 440-897-7069 or Debbie Lefelhoc, Treasurer at 440-254-4334 for information.
Annual TOPS dues are $28.00; and weekly dues are only $1.00 !!!
Inexpensive, supportive and gentle exercise is included.
TRY a meeting for Free.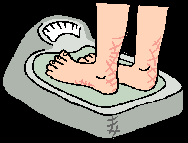 (Back to the top)