Leroy Township Softball League
Date: Monday, February 1st, 2016 - Wednesday, March 30th, 2016
Online Registration opens January 11, 2016 and will remain open until March 30, 2016. (A 2.8% processing fee applies.) Registration forms will be handed out in schools at the beginning of February. Printable forms will also be available on the Softball page at the beginning of February. Mail-In Registration: Registration form and payment postmarked by March 28th to: Leroy Fire Station, Softball Registration 13028 Leroy Center Road, Painesville, Ohio 44077 Walk-in Registration at the Leroy Community Center next to Leroy Fire Station March 5, 2 and 19, 2016 from 10 am - 12 pm. Payment required at time of registration. Please make checks payable to: Leroy Township. Registration for all age divisions is $55.
(Back to the top)
LEROY HERITAGE RAFFLE and DINNER
Date: Sunday, April 17th, 2016
Time: 1-4pm
Location: PARK ROAD GRILLE
The LeRoy Heritage Association will hold the 2nd Annual Reverse Raffle and Chinese Auction on Sunday, April 17th from 1-4 PM at the Park Road Grille. All proceeds will go toward restoration efforts of the South Meeting House. More details to follow soon.
We are asking area residents and businesses to help make this a success by contributing gift baskets, gift cards or merchandise to be used for prizes at our event.
You may contact Leslie Bassett at 440-336-4565 or Lori Watson at 440-897-9671 with your tax detuctible donations or to purchase tickets.
(Back to the top)
RENEWING YOUR DRIVERS LICENCE or PLATES
Date: Friday, December 1st, 2017
Location: LEROY TOWNSHIP
Please -- Remember when you renew your Drivers License or License Plates, USE LeRoy Township as your mailing address, not Painesville.
LeRoy gets motor vehicle and license tax. It will not come to LeRoy if you don't, it will go to Painesville
Thank-you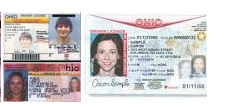 (Back to the top)