We now offer e-notifications to news, notices and events posted on our site. We invite you to subscribe here:
Subscribe to Notices & Events | Subscribe to Calendar Updates
---
FREE! July 21 Outdoor Movie Night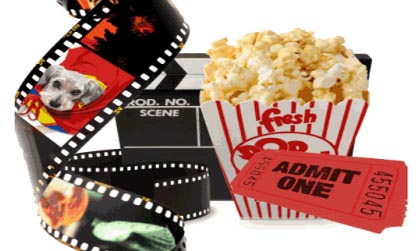 Join us Saturday, July 21 at the Leroy Twp. Softball Fields for a DOUBLE FEATURE of Despicable Me 3 (PG) and Jumanji (2017, PG13). Concessions and pre-movie fun start at 8 p.m. Free pop and snack to first 150 people! Movie starts at dusk. Spread the word with this flyer…
Be sure to bring your own blankets and chairs!
---
August 9: Lake County Community BBQ and Pheasant Run Airport and Museum
On the beautiful grounds of the Pheasant Run Airport and Museum on Trask Road in Leroy,  enjoy a summer BBQ among vintage planes from WW I, WW II, and later; vintage model trains; and classic automobiles from Chrysler, Ford, General Motors, and others. Music, BBQ, raffles, and more. Sponsored by Remarkable. Lake County, the Lake County Visitors Bureau and Excalibur Auto Body. $25 ticket get admission and dinner and supports the Leroy Heritage Association. CLASSIC CAR OWNERS: Please contact Lake County Visitors Bureau to register and get discounted ticket at $10. (440) 975-1234.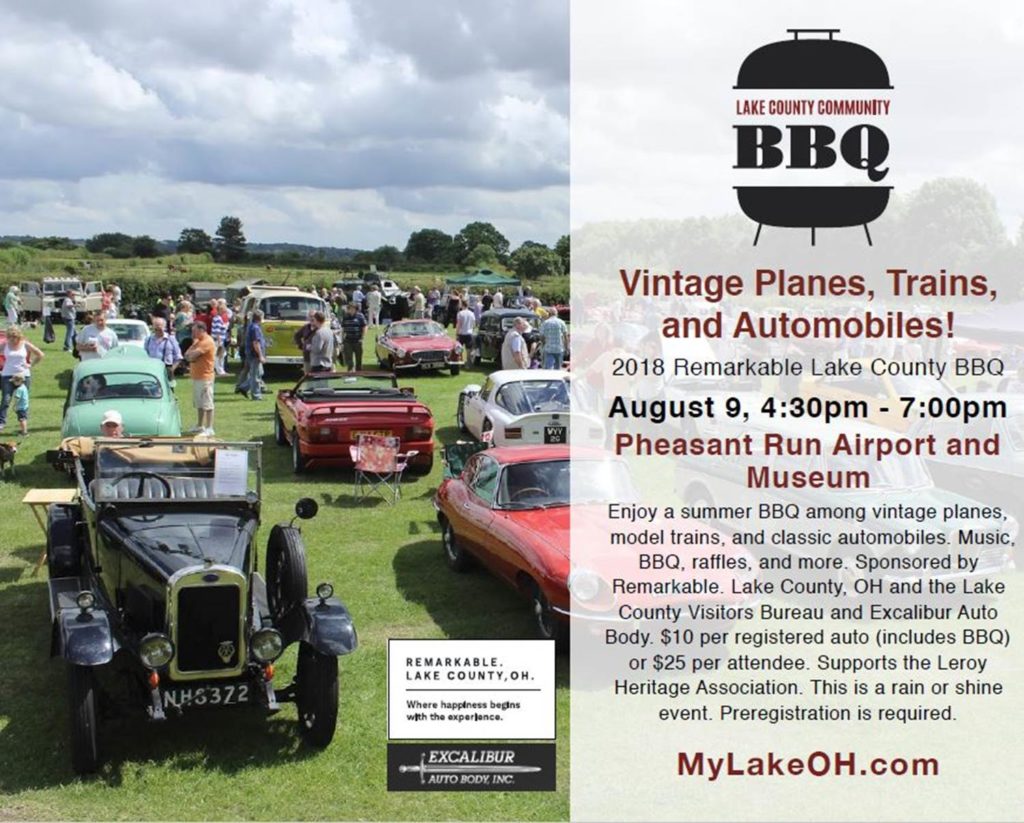 ---
Beach News
The bathing beach recreation season officially began over the Memorial Day holiday.  As such, the Lake County General Health District (LCGHD) will begin reporting beach water quality at both Lake County public beach locations, which includes the Mentor Headlands State Park Beach and the Lake Metroparks Fairport Harbor Beach.  Every morning, a Lake County General Health District staff member will collect and enter data into Virtual Beach, a software program developed by the United States Environmental Protection Agency (USEPA), in order to predict daily E. coli levels.
Each site-specific model determines the probability of whether the current single day standard (235 E. coli per 100 milliliters) has been exceeded that day.  Daily prediction models will be reported to beach operators each morning using both ODH BEACHGUARD and United States Geographical Services (USGS) Nowcast, and the LCGHD will collect three water quality samples per week, in order to validate both the accuracy and reliability of each predictive model.  If a prediction indicates that water quality is expected to exceed the standard, beach operators will be notified and advised to post an advisory sign.
LCGHD recommends consulting the water quality USGS Nowcast signage at each beach location prior to swimming.  Additionally, beachgoers should avoid the water for 24 to 48 hours after a heavy rain of more than 1/2 inch in 24 hours, as water quality generally worsens at this time.  Lastly, individuals should shower as soon as possible after swimming in the lake.
For more information regarding beach water quality, as well as links to ODH BEACHGUARD and USGS Nowcast, feel free to visit the Lake County General Health District website at https://www.lcghd.org, and click on the beach program tab for more information.
---
Meet Us in the Peace Garden
Presented by Master Gardener Volunteers of Lake County
Monthly Gardening Programs March – November 2018
The Peace Garden is located at the 4-H Building on the Lake County Fairgrounds.  It contains many common shrubs, grasses, herbs, annuals, perennials and small trees.  Have your gardening questions answered at these interactive demonstrations to be held at 10:00 a.m. on the scheduled Saturdays.
Each session will consist of a short presentation followed by interactive demonstrations and/or discussions.  When appropriate to the topic, small groups of participants with work with a Lake county Master Gardener Volunteer in the garden or on a project.
The sessions are FREE but space is limited.  Please register so we know you are coming.  Contact us by email at MGVLakeCounty@gmail.com or call (440) 350-2254.
The next session will be Saturday, August 4, 2018 at 10:00 a.m.
Native Plants – Why use native plants? Learn about their multi-season interest, the wildlife they feed, their adaptability to the local weather extremes, and their easy care
The rest of the year's programs are scheduled as follows:
Saturday, September 8 – Gardening Throughout the Year
Saturday, October 6 – Garden Design
Saturday, November 3 – Winter Sowing
---
2018 Special Collection Schedule Now Set
Lake County's 2018 special collection schedule kicks off in April with an expanded electronics collection.  The electronics collection will be held April 28 (and again Aug. 18) from 9 a.m. to 1 p.m. at the Lake County Fairgrounds in Painesville Twp.
Most corded and rechargeable household electronics, including tube televisions, will be accepted.  There will be a fee for tube/CRT TV's based upon the monitor size.  Monitors up to 21″ will cost $5 and sizes 22″ and larger will cost $10 – this will apply to both projection and console televisions.
Memory components on personal and computer related devices will be professionally erased or destroyed prior to being processed or recycled.
The collections are sponsored by the Lake Co. Dept. of Utilities, the Solid Waste District, the Board of County Commissioners, and the Lake Co. Ohio State University Extension; and are specifically for residential customers.  Items will not be accepted from commercial, business, or industrial customers.
More information about the collections can be found at http://bit.ly/LakeRecycle2018.
---
REMINDER

: A Zoning permit is required for all residences who engage in a Home Occupation (Business).  Call the Zoning Inspector, Myron Telencio (440) 220-0430 for any questions or for an application.
---
RENEWING YOUR DRIVERS LICENSE OR PLATES
Please remember when you renew your driver's license or license plates, use Leroy Township as your mailing address, not Painesville. If you do this, Leroy will get the motor vehicle and license tax. Otherwise, it will go to Painesville. Please … help your community!!