We now offer e-notifications to news, notices and events posted on our site. We invite you to subscribe here:
Subscribe to Notices & Events | Subscribe to Calendar Updates
Public Hearing:
The Leroy Twp. Zoning Appeals Board will hold a Public Hearing on September 19, 2018 at 7:00 p.m. at the Leroy Township Hall.
JJJ Properties, LLC, owner of Cedar Hills at 5811 Vrooman Road, requests a Conditional Use Permit for a Life Education School to house a faith-based, Christian program to educate individuals who have previously gone through a rehabilitation program, with the skills needed to overcome chemical addictions, and the life skills necessary to integrate themselves back as fully functioning members of society.
Copies of the requests are on file with the Board of Appeals and are available for inspection and copying upon request to the Secretary at (440) 254-4601.  Oral and written comments will be taken at the hearings.
By order of Zoning Appeals Board,
Julie Himmelman, Secretary
---
Leroy Twp. is seeking an alternate for the Zoning Board of Appeals.
Send inquiries to leroytwp@sbcglobal.net.
---
Lake Metroparks' New Archery Range in Leroy opens September 15, 2018!
Lake Metroparks is opening a new archery range at Hidden Lake in September. This is a FREE amenity for residents of Leroy Township and beyond. The range features eight ground-level shooting lanes and a raised shooting platform that will accommodate three archers. Targets are et at ranges from 10 yards to 50 yards. In a separate adjacent area, people of all ages and abilities can enjoy the sport of archery in a shorter range.
The range will be open from dawn to dusk, seven days a week. All participants younger than 18 must be accompanies by an adult. Bows and arrows are not provided unless you attend a scheduled program.
---
Meet Us in the Peace Garden
Presented by Master Gardener Volunteers of Lake County
Monthly Gardening Programs March – November 2018
The Peace Garden is located at the 4-H Building on the Lake County Fairgrounds.  It contains many common shrubs, grasses, herbs, annuals, perennials and small trees.  Have your gardening questions answered at these interactive demonstrations to be held at 10:00 a.m. on the scheduled Saturdays.
Each session will consist of a short presentation followed by interactive demonstrations and/or discussions.  When appropriate to the topic, small groups of participants with work with a Lake county Master Gardener Volunteer in the garden or on a project.
The sessions are FREE but space is limited.  Please register so we know you are coming.  Contact us by email at MGVLakeCounty@gmail.com or call (440) 350-2254.
The next session will be Saturday, October 6th at 10:00 a.m.
Garden Design – Before you start planting, it's important to do your homework.
The remaining year's program is scheduled as follows:
Saturday, November 3 – Winter Sowing
---
2018 Special Collection Schedule Now Set
Household Hazardous Waste
Saturday, September 22, 2018 – 9:00 a.m. – 3:00 p.m.
Accepted items: Automotive fluids (motor oil, gasoline, coolants, anti-freeze, grease), oil, used paints, varnish, shellacs, stains, aerosols, polyurethanes, primers & grout. Bulbs and batteries (all sizes of lead acid & household) and fluorescents. Household cleaners and solvents (thinners, kerosene, turpentine, lighter fluid and paint strippers).  Liquids/solids (pool, lawn and garden chemicals, pesticides, weed killers, spray insecticides, photography, "hobby" chemicals, mercury, empty propane tanks, roofing tars, drive sealers and adhesives.
Prohibited items:  Ammunition, explosives, medical waste including prescription medicines, smoke alarms or any other item not on the accepted list.
This collection is sponsored by the Lake Co. Dept. of Utilities, the Solid Waste District, the Board of County Commissioners, and the Lake Co. Ohio State University Extension; and is specifically for residential customers.  Items will not be accepted from commercial, business, or industrial customers.
More information about the collections can be found at http://bit.ly/LakeRecycle2018.
---
REMINDER

: A Zoning permit is required for all residences who engage in a Home Occupation (Business).  Call the Zoning Inspector, Myron Telencio (440) 220-0430 for any questions or for an application.
---
RENEWING YOUR DRIVERS LICENSE OR PLATES
Please remember when you renew your driver's license or license plates, use Leroy Township as your mailing address, not Painesville. If you do this, Leroy will get the motor vehicle and license tax. Otherwise, it will go to Painesville. Please … help your community!!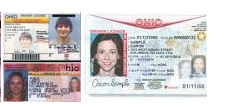 Also, please be aware: Effective 7/2/18, the Ohio Bureau of Motor Vehicles will introduce its new Driver License and Identification Card (DL-ID).  If you'd like to understand what's new, what will change, what won't change, and what documents you may need, visit bmv.ohio.gov.  New federal travel restrictions requiring secure identification go into effect October 2020.  Ohio is offering two options to its customers:  Compliant or Standard cards.